This shop has been compensated by Collective Bias, Inc. and its advertiser. All opinions are mine alone. #LoveTheseCleanPaws #CollectiveBias
Cat Rock Magnets
We have two very different cats in our home. They disagree often and after both being in our home together for more than a few years, they just simply don't enjoy being together. We make sure they both have their own space but do not have more than one designated place in our home for litter boxes. Luckily the one thing we can all agree on is Fresh Step® Clean Paws™ Multi_Cat Scented Litter with the power of Febreeze™ from Target in their litter box. Much like our two cats, our daughters are usually asking to do different activities. This week everyone was happy in our home with a family craft. We made cat rock magnets and had so much fun laughing together as we talked about our two cats' very different personalities. Hover over the image to purchase Fresh Step® Clean Paws™ at Target.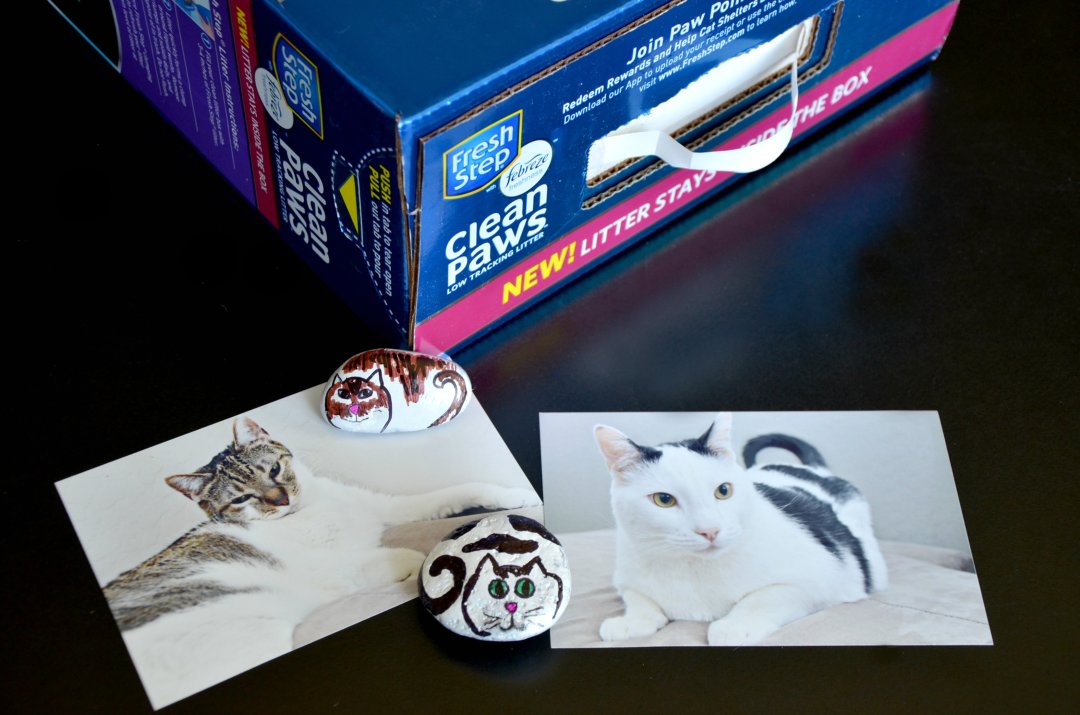 Having pets and children in our home means we always have a mess to clean up. If it's not from the kids, it's from one of the cats, dog, hedgehog or turtle. Using Fresh Step® Clean Paws™ in our cats' litter box is an easy way to help make sure we have their little paws tracking less dust and reduce unpleasant odors in our home.
Our Cats
We adopted Toby from a rescue shelter when he was a kitten. He has always been a large cat but is the most friendly and cuddly. He enjoys human company and cries everyday when our oldest daughter goes to school. They are very close and when she's home, Toby follows her around everywhere.
I brought Delilah home from a cardboard box she had been abandoned in at just a week old over 12 years ago. She was tiny and absolutely adorable. From the first few weeks she was with us, Delilah decided she doesn't care for people. She is sassy and very good at letting you know when she wants her space.
When Toby hears the garage door open he runs downstairs to greet whoever is coming home. He was happy to see me walk through the door with Fresh Step® Clean Paws™ this week. The low dust formula has increased odor-fighting protection with the power of Febreze™ freshness for multi-cat households.
Cat Rock Magnets are a fun family craft to make with supplies you likely already have at home.
Cat Rock Magnets Instructions
Supplies:
rocks

paint for background color

paintbrush

permanent markers

magnetic strip with adhesive backing

pencil

photos of your cats for inspiration

acrylic sealer
Paint rocks solid color. Allow to dry then draw face and tail outline with pencil. Trace with black permanent marker. Embellish design with markers to match your cat's markings. Draw eyes, nose and whiskers with pencil and trace with markers.
Finish decorating cat rocks with markers then apply thin layer of acrylic sealer. Allow to dry. Turn cat rocks over and attach piece of magnetic strip. Push down firmly to secure magnet and your cat rock magnets are ready to use to display your favorite photos of your cats.
Use the cat rock magnets to share photos of your cats on the refrigerator, in a locker or on a magnetic board in your office. Both my daughters helped with this easy craft and will each have a set in their bedrooms on magnetic boards to remind them of our favorite pets.
Having a litter we can rely on has made taking care of them so much easier. We can quickly change both their litter boxes at the same time and the low tracking formula helps keep litter in the box and off paws and floors.
Look out for Cartwheel offers when purchasing your Fresh Step Clean Paws™ from Target.
Do you have more than one cat to keep happy in your home too?
Learn more about Fresh Step® Clean Paws™ by connecting with the brand on Facebook, Instagram, Twitter and YouTube.