Thank you Moose Toys for sponsoring this post. Get crafty with your kiddo and make "ooniements" with Oonies by Moose Toys this holiday season!
Holiday crafts were always my very favorite as a child and are a part of so many of my best memories. The Christmas tree at my parents' home is decorated with the ornaments my brothers and I made in elementary school and crafting at home. This holiday season has felt so busy but I did make sure my daughters had time to craft with their friends. Last week my daughters invited neighborhood friends over to craft with Oonies by Moose Toys and make the same type of wonderful memories I have from my own childhood.
What are Oonies? The coolest way to create anything you can imagine.
"Using the Oonies inflator you can inflate Oonies that magically stick together and make an ooniverse of creations. Just inflate them, stick them together and then decorate with Oonie Deco Bits. Create and ocean scene, a jungle of wild animals, a sword or some ice cream! Play games, throw "em or even just pop 'em!"
For a couple of hours my daughters and there friends used their creativity to design their own ornament ideas.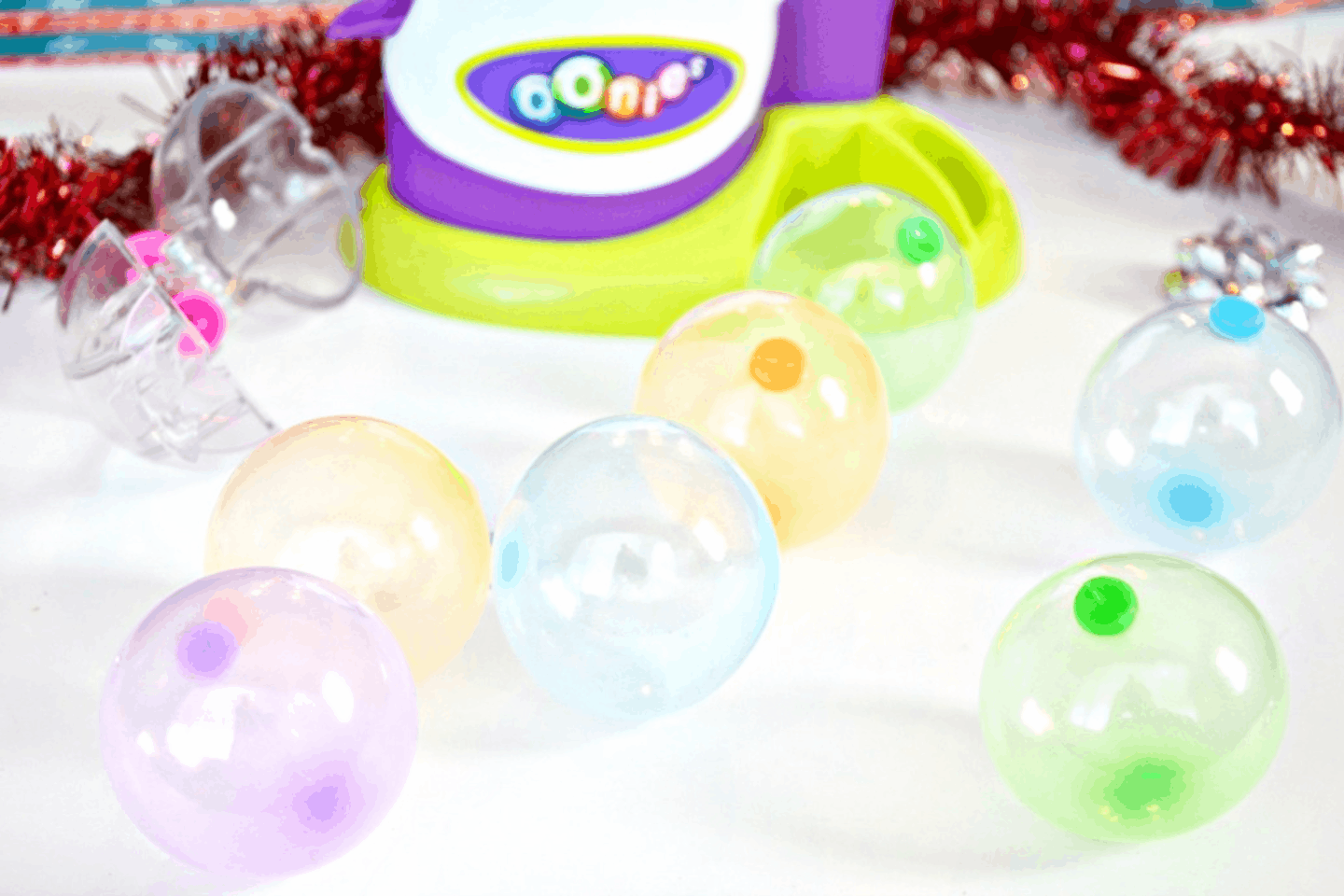 Oonies are not a seasonal craft activity but because you can make truly anything with the inflatable pellets, they were the perfect start to a fun holiday crafting party. The Oonies Starter Pack came with an Oonies inflator, Oonies Pellets, Oonie Connectors, Oonie Deco Bits, Display Connectors and Oonie Eyes. The instruction manual included step by step directions to make very specific creations. We'll be playing with Oonies again to make the creatures in the instruction manual but this evening was all about the holiday ornaments!
Inflating the Oonies was easy. Simply place a pellet in the inflator, lock and pump.
The process is fascinating to watch and our party guests had fun taking turns with the inflator.
Winter break is the perfect time to host a holiday craft party for kids. Save wrapping paper, bows and decorations when you open your holiday gifts to reuse for an easy holiday craft party while your children are home from school during winter break.
How to host an easy holiday craft party for kids
Friends
Invite friends over for to make holiday crafts. The Oonies are easy to inflate and adult supervision is only necessary with younger children.
Snacks
Each guest at our party made a holiday shaped pizza before we started crafting.
Crafts
Provide children with wrapping paper, bows, tinsel and any other small wrapping supplies to recycle and use for their Oonies creations. Oonies stick to each other so kids can make amazing creatures and designs without glue.
Is your holiday tree currently decorated with crafty ornaments your children have made too?
I was selected for this opportunity as a member of CLEVER and the content and opinions expressed here are all my own.