This shop has been compensated by Collective Bias, Inc. and its advertiser. All opinions are mine alone. #ProtectFromPetMess #SeasonalSolutions #CollectiveBias
Our Siberian Husky, Sophie, is the sweetest so it's funny that she's always getting mistaken as a wolf. She's 10 years old and has always been the best family pet. Because of her wolf like appearance and little sister's obsession with The Three Little Pigs, we made family costumes so we could all get in on the fun together for Halloween. We just moved into a new home and for the first time in years we live in a two-story house. The entire bottom floor is wood grain tile but upstairs is carpet. We're all getting familiar with the new home, including Sophie. We moved in fully prepared and well stocked with STAINMASTER® Carpet Pet Stain Remover from Target to help keep our new floors clean and with an invisible shield to repel dirt.
.
We've used STAINMASTER for years and it's a brand we trust with our carpet. We have even gifted it to friends for a new puppy husky gift. Initially we thought we would try to keep Sophie from going upstairs in our new home because of the carpet but she has such a close bond to our daughters that it's impossible to keep her out of their bedrooms. With STAINMASTER in our cleaning supplies, we aren't worried about the carpet. We have big plans to make this the most fun fall season and are very much looking forward to trick or treating as The Three Little Pigs and The Big Bad Wolf! Click on the image below to easily shop for STAINMASTER at Target.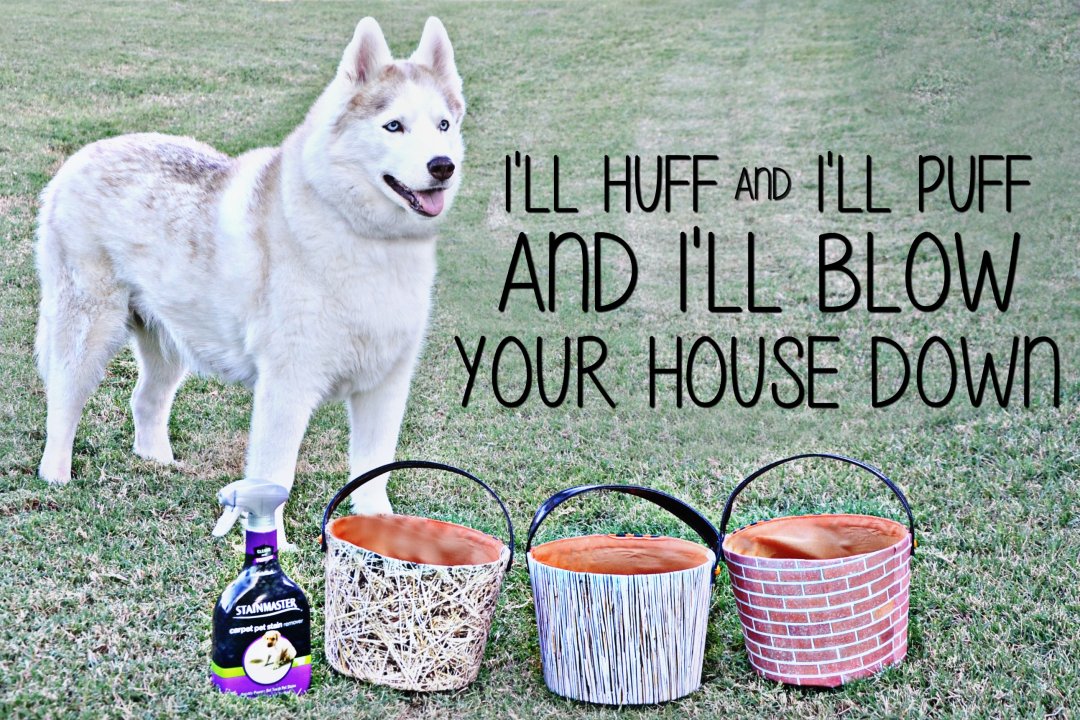 Our daughters had so much fun trying on our family costumes!
Sophie hasn't quite decided where she wants to sleep in the new house. For the past few days she's been lounging on the carpeted stairs then spending the nights in our carpeted bedroom. During the days she tagging along with little sister playing upstairs in the carpeted loft.
STAINMASTER definitely provides our family reassurance to let Sophie roam freely. The ODOR REMOVE™ technology cleans and protects while removing pet stains while protecting against future stains, eliminating odors and repeling dirt.
How To Use Product:
SPRAY: Spray product liberally and directly on affected areas.
WAIT: Wait 3-5 minutes to allow solution to penetrate the stain.
BLOT: Dampen the spot with water and blot with a clean, colorfast paper towel or cloth. Repeat as necessary to remove the stain. For best results treat stain immediately.
Three Little Pigs Costume
Supplies:
three pink hats
three pink shirts
three candy pails
three large pieces of pink felt
red marker
one large piece of felt same color as the inside of the candy pails
spray glue
glue gun
scissors
Three Little Pigs Hats
Print three little pigs and big bad wolf costume template on letter size paper. Trace three times onto pink felt and cut out patterns. Each circle will be either a nose or tail. The triangular shapes are ears. You need six circles and six triangles to make three hats.
Draw two lines on one of the circles with a red marker. Use glue gun to attach noses and ears to top of hats.
Three Little Pigs House Candy Pails
I purchased three fabric candy pails from the Target Dollar Spot. Print the candy pail background house printables on letter size paper.
The inside of our pails were orange so I used orange felt to finish the project.
Cut background patterns into wide strips and attach to pails with spray glue. Cut tabs along the tops and bottom of the excess paper. Lightly spray glue where paper will cover then fold down. Cut felt into strips wide enough to cover the excess paper tabs. Use a glue gun to attach felt to the top inside edge of the pails.
Three Little Pig Shirts
Use felt circles cut from template in first step to make pig tails. Draw a spiral design on the circle then cut along the line. Adhere the center of the spiral to each shirt with a hot glue gun or fabric glue.
Your Three Little Pigs costumes are complete and you just need to find the Big Bad Wolf to accompany you while out trick or treating.
Our new home is close to Target so was easy for me to pick up everything I needed including STAINMASTER and all the Three Little Pig and The Big Bad Wolf costume supplies while out running errands.
Do you include your pets when planning family costumes?
Learn more about STAINMASTER by connecting with them on Facebook, Instagram, Pinterest and Twitter.