How would you share amazing deals and coupons with your friends? Maybe you'd post it on Facebook. Maybe you'd snap a photo. Or maybe you'd send a text. What if you had your own landing page in a community of great deal spotters, just like you, to post and share deals? Dealspotr is that place. There's really not much I dislike more than finding a great coupon code online only to find it doesn't actually work or the deal doesn't exist. Dealspotr only shares verified coupons and deals added by their community of deal spotters so you don't waste any time after finding the perfect deal. Dealspotr is a community launched in 2015 that has already saved its members over 15 million dollars. I received compensation in exchange for this post but all opinions are my own.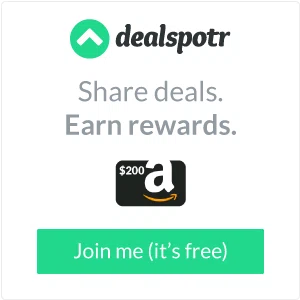 Instead of having to dig through hundreds of pages to find a coupon code or printable coupon, Dealspotr shows you exactly what you are looking for – and only deals that are active. When you share deals or use them, you get points that can then be used to redeem gift cards. That's right, you can earn gift cards just for sharing deals with friends, something you probably are already doing.
I recently found an epic deal and have been sharing privately with friends – now I'm sharing on Dealspotr too. Many years ago a good friend was a jewelry consultant for Lia Sophia. In support of her business ventures, and because I really liked the jewelry, I purchased a handful of pretty necklaces and earrings. Each necklace cost close to $100. Years later, I learned Lia Sophia was no longer working with consultants but rather had an online outlet. It seemed prices at the outlet were about half of the originals. Then last month I started receiving emails because the outlet was closing and all clearance items were an additional 70% off. The items not on clearance had markdowns too with most jewelry priced less than $10. The heavy jewelry has a $5.95 flat rate shipping fee for your entire order.
I wore Lia Sophia necklaces in my last three personal headshot photos.
Those same necklaces are now at the Lia Sophia Outlet clearance with an additional 70% off the lowest price.
With an additional 70% off the cabana and blushing necklaces are only $2.40. Because these necklaces were both originally priced at almost $100, they are high quality and definitely not reflective of the new less than $3 price.
I've added the Lia Sophia clearance deals to my Dealspotr page. Join the community and start sharing deals so you can earn gift cards and more too. You'll find promo codes, printable coupons and deals to help save.
Use code BRIEBRIEBLOOMS when you register for free points to get started redeeming!
Dealspotr is also a great place to go to find travel and theme park deals. Did you know you most parks offer deals for discounted child tickets? Instead of searching each venue through hundreds of deal saving sites while planning your visit, search the name of the theme park on Dealspotr.
With Easter shopping not quite done yet I'll be searching deals on Dealspotr and sharing my favorite finds. What are your favorite types of deals?