This shop has been compensated by Collective Bias, Inc. and its advertiser. All opinions are mine alone. #TeaProudly #CollectiveBias
I have lived in Arizona my entire life. I've grown up with blazing hot summers, tumbleweeds and more saguaros than you could possibly tally up on a road trip. The gorgeous desert, golden sunrise and real western movie sets have always been a part of my daily routine. But naturally, you grow up thinking about the greener grass on the other side and fall is something I always wanted to experience. Changing colors, jumping in leaves and tall boots on brisk morning walks simply don't happen in central Arizona. Instead, we are wearing shorts and flip flops and spending afternoons at the pool. The picture perfect fall images on every beautiful home decor blog and in the magazines showing up in my mailbox look incredible but I've grown a deep appreciation for desert living and have found ways to enjoy fall in the desert too. We just moved into a new home last weekend and I'm so in love with our neighborhood. Our parks and walking paths lead directly to the mountains with the most incredible morning and evening desert views from our window. This fall season I'm savoring every wonderful moment while sipping my way through the season on Bigelow Tea from Walmart.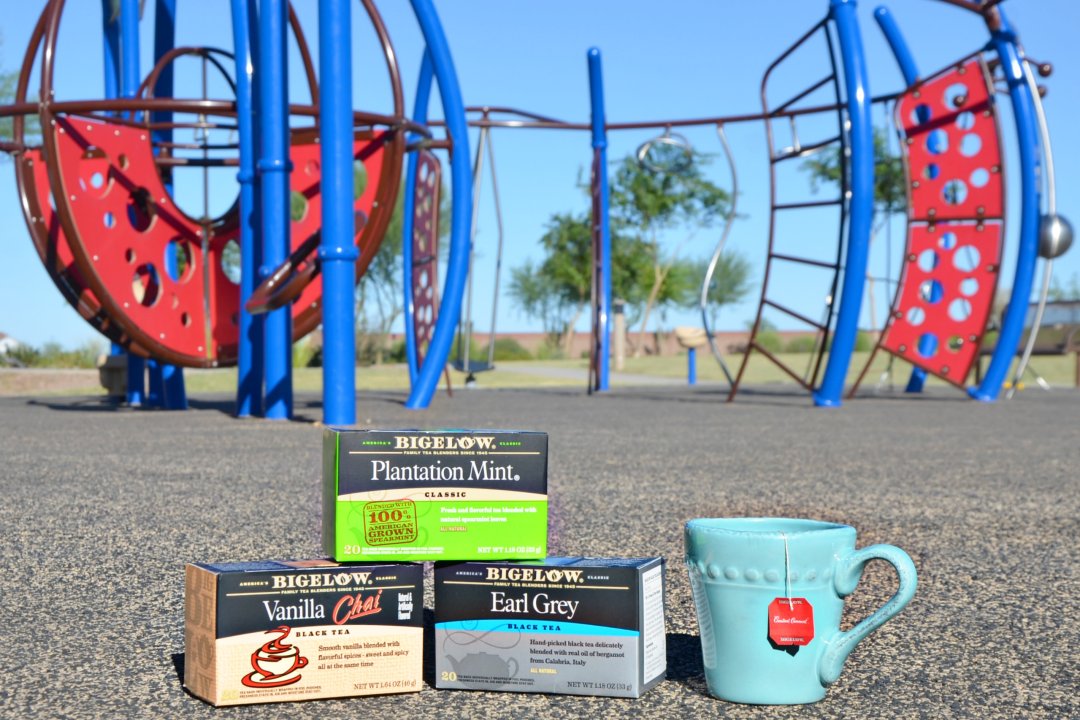 10 Ways to Enjoy Fall in the Desert
watch the sunrise
I took a short walk this morning to watch the sunrise over the mountains and it was spectacular. It is still warm during the day but there's that slight change of air that makes these morning walks feel different and the view can't be beat.
enjoy your neighborhood parks
My daughters ask to walk to the park 150 times a day. I'm really not exaggerating. With temperatures just starting to dip below 100, fall is our favorite time of year to play outside. Our new home has a nearby park where we've been spending hours playing everyday.
look for wildlife
You're not the only ones enjoying this great weather. Pay attention to your surroundings while outside and you might be surprised by what you might spot. Last year while staying at the Ritz-Carlton Dove-Mountain resort in Tucson, two javelinas walked by us while exploring the resort. Growing up in Arizona, I'm well educated on the dangers of our desert wildlife; be careful, rattlesnakes don't like to be surprised by people.
tea proudly
Bigelow Tea has always been a favorite in our home. With so many different varieties to choose from, a warm cup is a favorite part of my fall routine. Bigelow tea is a three generation family business with tea grown and manufactured in the United States. Their tea is packaged in foil with the best ingredients for ultimate freshness. Open a Bigelow tea bag and you immediately see and smell the difference. If I drink Bigelow tea, I tea proudly.
See the changing colors
We might not see leaves change colors during the fall here but we do have a big variety of cacti. Blue, brown, green and even purple can be found. Make it fun and go on a cactus color treasure hunt with your children.
Make a craft
Whether it's a fall tree craft with your children or something to decorate your home, seasonal crafts help us enjoy fall in the desert.
Bake with fall flavors
It's still warm out but when your home smells like fall, the mood changes. Try making these yummy Easy Vanilla Chai Waffles for breakfast this week.
Wear fall accessories
This one's always tough for me. It's 90 degrees out but I want to be wearing over the knee boots and sweaters. During the early fall season before our temperatures really start to change I wear fall accessories instead like tees with a light scarf or brown and orange shades of nail polish.
Watch the sunset
Just as incredible as the sun rising over the Arizona mountains, our sunset is one you need to witness too.
Cozy up to a fall movie
Fall movies with a warm cup of tea before bed are a great reminder that even though your fall in the desert might not be full of changing leaves and fuzzy sweaters, it's still beautiful and definitely should be enjoyed.
Do you Tea Proudly in the fall too?
I always purchase my Bigelow tea at Walmart for the biggest and best variety including fall favorites like Pumpkin Spice.
Learn more about Bigelow tea by connecting with the family brand on Facebook, Instagram and Twitter.