This shop has been compensated by Collective Bias, Inc. and its advertiser, Mars Wrigley Confectionery US, LLC. All opinions are mine alone. #SweetnessToShare #CollectiveBias
Every year we make a special treat for Santa the night before the big day. It usually consists of a giant mess in the kitchen displayed on a pretty plate and most years Santa is in such a mad dash to deliver gifts and assemble the last minute presents that he actually forgets to even eat those sweet treats. Luckily every year so far Santa has stepped back in to take a big bite of cookies before dashing off on the rest of his holiday journey so our daughters know he visited our home. This year we decided we're doing things a bit differently. We can't leave out the reindeers and our Elf on the Shelf so they'll be getting to go treats with Santa too. All the big guy needs to do is remember to take along the treat jars when he's done delivering presents and the magic is done. Easy peasy. We'll make sure everyone in our home is on board with this plan but in the meantime we did have fun making these easy Santa Treats in a Jar with Holiday Sweetness from Walmart. We used Ball® Jars filled with M&M'S® Brand Holiday Caramel Milk Chocolate Candies, M&M'S® Brand Holiday Milk Chocolate Candies, M&M'S® Brand Holiday Peanut Milk Chocolate Candies and M&M'S® White Peppermint to make fun treats for Santa, the reindeer and our Elf. Served with a glass of Great Value® milk to support the Great American Milk Drive, this is the ultimate treat for Santa!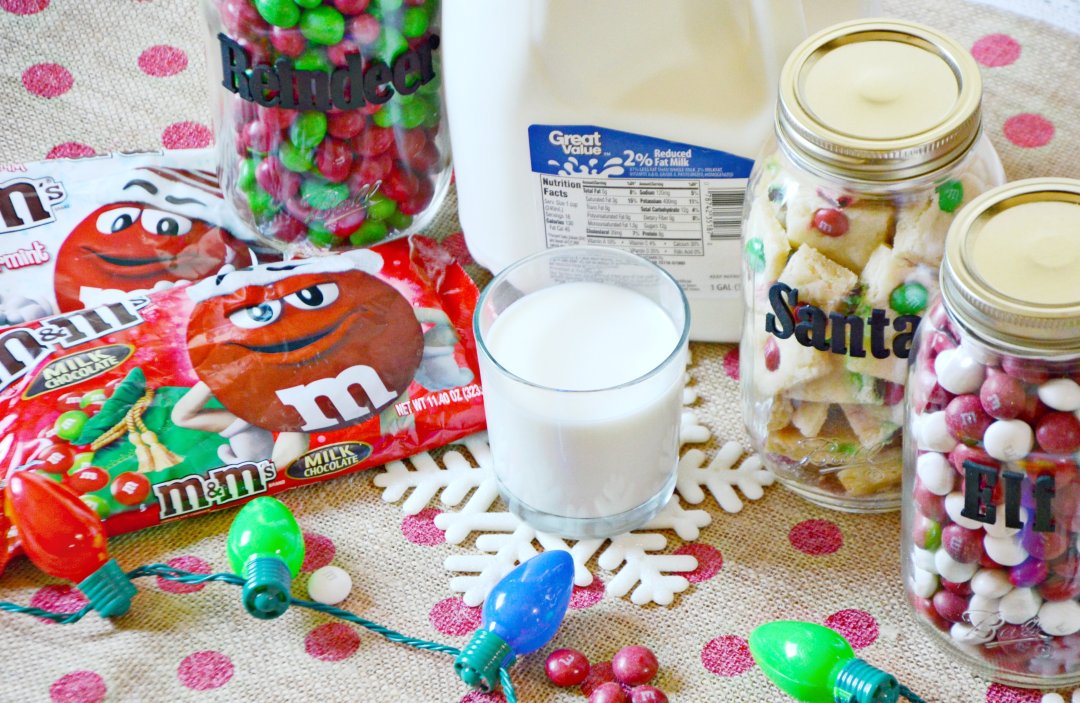 Hover over the image above to purchase the items used in my Santa treats in a jar craft.
Because we can't pass up a good holiday baking opportunity, we did make santa sugar cookie squares too. But here's a quick trick to make those cute bite size perfectly portioned sugar cookie squares with one perfectly placed M&M'S® milk chocolate in the center. Instead of cutting your cookies into shapes, spread sugar cookie dough in a thin layer onto a cookie sheet and bake for 8-10 minutes. Remove from oven and carefully push M&M'S® into dough. Place back in oven for additional 2-3 minutes. Remove from oven and allow to cool then use a pizza cutter to cut into squares while still on the cookie sheet. Remove your perfect little cookie squares from the cookie sheet to impress Santa!
We cut our squares even smaller to fit perfectly in the Ball® Jar for the Santa Treats in a jar.
Santa Treats in a Jar
Supplies:
Ball® Jars: we used three 32 oz jars so Santa could share with the reindeer and our Elf
M&M'S® in varying colors
Sugar cookie squares
Adhesive foam letters or stickers
Place the foam letters or stickers on the front of the Ball® Jars to label for each recipient.
Fill with your favorite M&M'S® or holiday treats. Santa's jar was filled with the sugar cookie squares but the Elf and reindeer were gifted M&M'S®. Our Elf is a little spicy and always finds mischief so it was perfectly fitting that his jar was full of M&M'S® White Peppermint.
Although this year Santa is taking his treat on the road, he still needs a big glass of Great Value® milk to remind him to refill his treat jar because when shoppers buy any M&M'S® at Walmart (9.4oz or larger), milk is donated to local food banks. That's definitely a win this holiday season and really lets us all give the gift of donation to families in need.
I purchased all items used in my Santa Treats in a Jar craft at Walmart. For every purchase of M&M'S® Brand Chocolate Candies (9.4 oz or larger) at Walmart between 11/01/2017 and 12/25/2017, Mars Chocolate Inc.® will donate $5.00 to Feeding America® on behalf of its national network of food banks to secure and deliver one (1) half gallon of milk or more based on local markets. Maximum donation of $75,000.
Learn more aboutHoliday Sweetness from Walmart and how you can how you can give back to kids in need this holiday by visiting www.milklife.com/give.
Milk Life: Facebook|Instagram |Pinterest | Twitter
M&M'S: Facebook |Instagram |Pinterest | Twitter
How are you giving to families in need this holiday season?