This shop has been compensated by Collective Bias, Inc. and its advertiser. All opinions are mine alone. #BigLotsHoliday #CollectiveBias
Christmas gifts from Santa are a big part of the early morning Christmas day fun in our house. But when Santa knocks it out of the park and surprises everyone, even a husband that declared all season long he wants nothing more than a happy and healthy family, that's where the magic happens. This year with the help of Big Lots Santa is delivering a very special gift so my husband can finally sing and dance in our living room with our children to the very same records he enjoyed with his grandfather as a child. The 6-in-1 Music Player from Santa is bringing so much more than just an entertainment system to our home.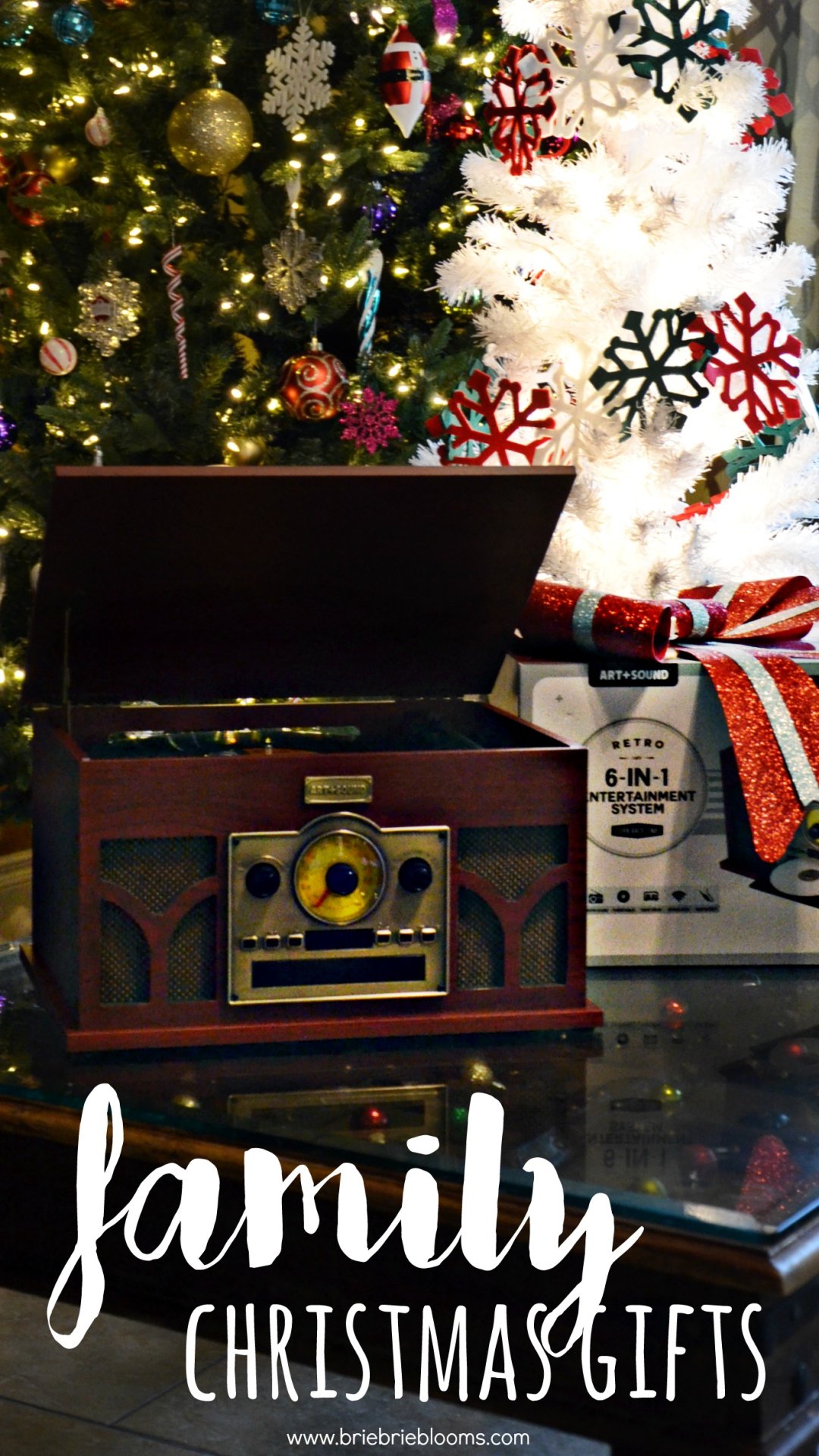 My husband grew up very close to his grandfather. He has quite an amazing story about how his family moved from Italy to New York, changed the spelling of their last name to feel more American, grew a passionate love for the New York Yankees and deeply loved music. He sings the same Italian love songs his grandfather sang to him to our daughters at bedtime. He lights up with Frank Sinatra songs because they remind him of his grandfather. And he makes an amazing eggplant parm following a recipe he grew up closely watching his grandfather make often in their kitchen. Our oldest daughter was just two years old when her Great Grandpa Vinny passed away but we are so fortunate for the memories we have watching them play together. Just like the bond he had with my husband, he loved his first granddaughter fiercely.
For many years we have had my husband's grandfather's Frank Sinatra records displayed in our home office. The carefully framed records add color to our walls and many smiles at the thought of Grandpa Vinny singing. But I know it would be so much more special if my husband could actually play those records and dance in our living room with our daughters the same way he sang and danced as a child with his grandfather.
I've intended on gifting my husband a record player for several years but this year, because of Big Lots, my husband will finally be singing along with his grandfather's records Christmas morning. I purchased the Art and Sound Wood Grain Bluetooth® 6-in-1 Music Player to display by our holiday tree Christmas morning. Not only can we finally play those special family records, but this entertainment system also plays CDs, cassette tapes and features a built in FM tuner. The system also can connect to your mobile device with an auxiliary cord or through Bluetooth to play your saved music collections.
Christmas morning in our home this year will be about so much more than just the gifts. Enthusiastic kids begging you to crawl out of bed before sunrise is expected. For my husband, the unexpected moment will come when he rounds the corner and spots the Christmas tree with a very special gift for him from Santa. You can't put a value on the gift of family memories – and this year Big Lots added that joy to our holiday season.
Shopping at Big Lots is always a fun experience. I easily could redecorate my entire home and find Christmas gifts for everyone on our list in one visit. While I was there purchasing the family Christmas gifts from Santa I also picked up a few new decorations from a gorgeous silver and white themed holiday aisle. Much better than a visit to a candy store, my daughters rewrote their holiday wish list as they strolled through the store. They will be ecstatic to discover Santa is also delivering the giant overstuffed bear and unicorn they fell in love with during our store visit. Because the girls were with me and in true awe of all the holiday goodness, we also brought home Bumble for our front yard.
The white holiday tree, snowflake garland and red sparkly bow add to the presentation but what really matters most is the thought behind this gift.
What will Santa deliver this year to your home?
Learn more about Big Lots and how to make your family Christmas gifts from Santa extra special this year by connecting with the store on Facebook, Instagram and Twitter.